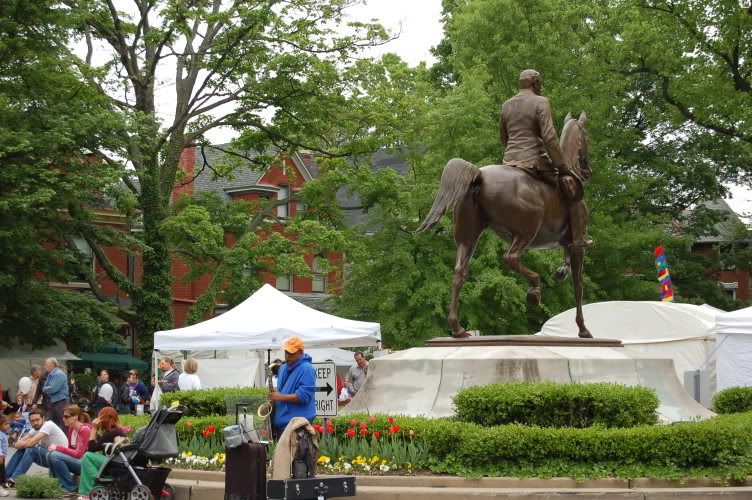 Street performer at the Cherokee Triange Art Fair
TEN GROOVY THINGS FROM THE WEEK
I almost forgot about the
ten great things
!! Once again here we go on a reflective tour of the week that was and all the wonders it offered.
1) Had a long telephone conversation with one of my buds from Lexington. I heard the latest stories about his precocious children. Made me laugh! Miss all of them so much it hurts still.
2) While driving to work early one morning, I saw two deer in a side field. The day was just breaking and there was fog swirling around. Beautiful.
3) Found this oasis of tranquility in the middle of the city! Called Linderwood Nature Reserve. Shhhhhhh....don't tell anyone.
4) My injured toe is much better...almost healed.
5) Spring has arrived in all her glory and I have been taking stolen moments to enjoy the beauty of the area. What I once thought was bland and flat, is now ablaze with color and possibilities. I am happy and sometimes when I realize it, it makes me pause.
6) I wrote the Hungry Bear piece in a fit of inspiration! I was so proud of the comment
Paul
wrote!
7) I met this spiritual mystical guy at the Buffalo Preserve. I'm working on a piece about him. Fascinating.
8) Was able to make it to Louisville for the Cherokee Triangle Arts Fair! It did not matter that it was rainly and overcast. I met my
friend the scientist
with the wonderful jewelry...Found some of the cutest pig earrings for Bridget. The head on one earring, the pigs butt on the other. Darling.
9) After the fair Bridget and I took a long stroll down Bardstown Road and visited
Ear-X-tasy
, my favorite music store!! Found the
Saw Doctor's
latest CD.
10) Totally blew my attempts to be less consumer oriented! Found some really cool stuff at the Fair, besides the pig earrings.