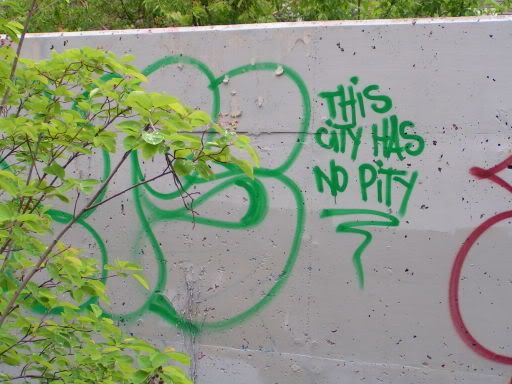 RIVER WALK WALL BEHIND HISTORIC OLD FORT - MAY 2005
Since I will be spending the weekend in Ft. Wayne I am going to challenge myself to go out and find the beauty. When I first moved here last year I prowled the area, the downtown, US 27 trying to snap shots of the Amish children, Headwater park, the rainbows etc. etc. etc. I saw beauty everywhere.
I am going to dust my camera off and try again. And I have such a new kick ass camera that I never use!! Shame on me!!
There is a Chili Fest Cook Off type competition in the Headwater park area. I believe there are baseball games going on. I think there is a Motor Car Show going on at the Fairgrounds.
Also, I have not taken any photos of the Southside Farmers Market.
Use it or loose it. I find I am becoming shy with the camera. Maybe I can tell everyone at the Farmers Market that I am doing a study....I've gotten so many terrific shots telling people I am entering a contest.
So that is my assignment I give myself. Attitude adjustment and situation acceptance.