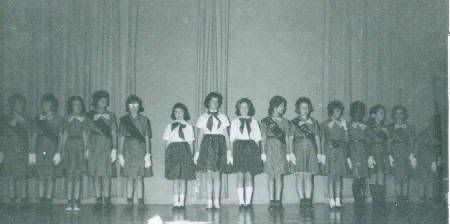 SHE WAS A BAD INFLUENCE
Besides the handful of girls in my class, I also had friends outside that sadistic little circle. I had the Girl Scouts! And I got to be the star dancing the Irish Jig!
I am the little one on the left, Brenda-Kay is on the right and Dottie is the tall Amazon in the middle.
Dottie was in the class before us in school which meant she was more worldly and sophisticated than us.
She danced a mean Irish Jig.
I loved it that she would invite me to parties and sleep overs at her house. Our parents were friends. That meant we were thrown together and we better like it.
Like it or not, the sleep overs were groovy. We would listen to our LP's and 45's and teach each other all the new dance steps. We were a regular mini-American Bandstand sweating it out to the Twist, the Jerk, the unbelievable fun Monkey, Pony, the Swim, and my favorite the Skate. Not to forget the Hitchhiker.
I first heard Mr Tambourine Man performed by the Bryds in Dotties kitchen late one night from the huge radio station out of Chicago that you only received late at night.....and on a bounce. It always faded out at the best parts.
I smoke my first cigarette with Dottie when I was twelve. We slipped them out of her mothers cigarette case. Tareytons. The taste worth fighting for.
We climbed up in the tree house and took our very first drags. Nothing was ever quite the same from that moment on.
I was a bonafide bad girl now.
And Dottie the bad influence.