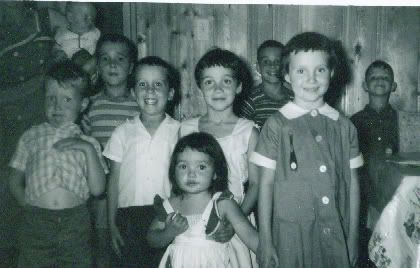 Woman Posse
One of my favorite blogger friends,
Paul
, suggested I do another series based on all the hints of "much more to the story" on a previous entry. Well, I might do that one later. I have been turning the phrase
Woman Posse
over and over in my head since I wrote those words last week.
And an idea was born. An idea for a series (which I love so much!!).
Look at the above picture. That was a birthday party in progress, I'm not certain who's birthday it is, but that is really not the point. The point is......LOOK AT ALL THOSE BOYS!!
Three of them are my brothers. The one showing his belly...my dramatic bro "T". The fat baby in the upper left corner in my Mom's arms, my littlest bro "P". Next to the belly showing show-off is the oldest brother, "N". The rest are family friends and neighbors.
At this point I have no sisters.
I do have ...... (now here it becomes a little complicated. I want to use real names, but I think maybe I should not. After all, I am using real photographs and that is exposing the guilty enough)....Twin.
I use "Twin" because we looked so much alike as children that at times when I look at an old photo and it takes me awhile to determine if it is me or her.
I am in the foreground holding Twin's sisters hand. Twin is behind us.
Same haircut! What the hell, did our mothers confer and decide the best thing to do was make all off us look exactly alike??
Anyway, this is my new series....All my gal pals because I needed them badly living with a bunch of brothers.