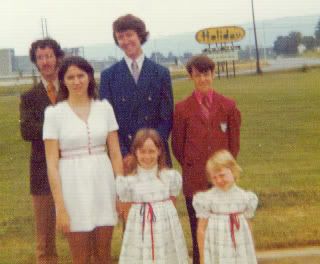 The year was 1968. I was in High School. Thank God it was a Catholic
prison
School where it was not uncommon for our Mothers to be pregnant. My mother had her sixth and final child, the infamous Omega of many of my stories.
She, naturally, is the little red faced (burn) blond squinting at the camera. Dressed like her older sister, Kit. Dresses my mother made for them.
Omega has many concerns about being the final child of a large family. First of all, not many pictures of her. I must admit, it did take me awhile to find a photograph. And this photograph would not be my first selection. Unfortunately, it is my only selection!! So, she has a point.
Secondly, she is an over achiever which she blames on all of us forcing her to have to go above and beyond to gain any attention. She was hellion for awhile then reformed and became a brain of sorts.
My Dad was scheduled for heart surgery in the early 1970's. Before it could happen, he had to lose weight. The form of exercise that he used was an after dinner walk accompanied with either Kit or Omega, sometimes both.
On one walk, Omega and Dad were having a conversation and my Dad mistakenly called her Kit.
"I'm sorry, "Omega". When you have so many children sometimes you mix the names up."
"That's okay, Mom" she quipped back. She wasn't even four years old yet and already displaying the sharp wit inherited from Nana.
Happy Birthday to my original Side Kick!!