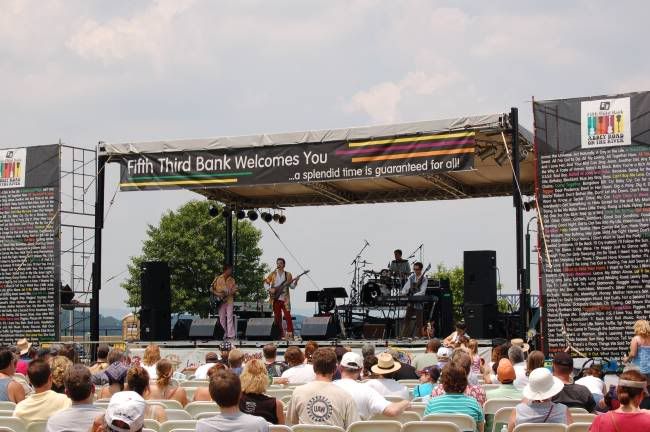 Memorial Day 2006
I was 10 years old when the Beatles were introduced to America via the Ed Sullivan show. It was love at first scream. I really don't remember the first time I had heard the songs. I do remember the first one though, it was
She Loves You
.
Yea. Yea. Yea.
My first Beatle album was "The Beatles Second Album". Followed by Rubber Soul, A Hard Days Night and Sergeant Peppers Lonely Hearts Club Band and finally Abbey Road.
My friend and fellow maniac, Judy, filled in with "Meet the Beatles" and others, of which now I can not remember. We spent hours at each others house listening to these albums along with our numerous 45's.
I coveted a Beatle wig. It was not to be. But I did manage to have a totally fab Beatle poster that was about four feet long and maybe 18 inches wide. It was red and each Beatle head was in a white star, along with extra pictures of them full length in the back ground. I also had a white sweat shirt with the Beatle logo.
Way back then it was not known as the Beatle logo. Just the name, the Beatles. Long before the Apple.
I had as many Beatle magazines as I could afford. Only one remains now. Without the cover. I think I remember purchasing that mag. I think I remember the cover. It was a "16 Magazine" special edition.
I also collected Beatle cards. I wrote an
entry
about those long ago...
I had a George Harrison plastic doll, about four inches in height and sporting a brown mop top. He was wearing a dark suit. He may have been holding a guitar. I remember he had very luscious lips.
I out grew my Beatle mania in time. I graduated sometime around my sophomore year in High School, after listening to the Beatle
White album
a million times in Suzy's secret room, to bands like Led Zeppelin, Jimi Hendrix, and Janis Joplin.
Last Saturday on the belvedere in Louisville I found myself at a Beatle Tribute Festival singing the words of the songs, long ago imprinted indelibly on my brain.
75 bands, 10 stages, three days. It was fab. We wandered from stage to stage sampling all the different interpretations and imitations.
A lone guy from England performing only George Harrison songs.
A girl band from who knows where with the drummer belting out "Twist and Shout".
My personal unusual favorite, fifty people on the stage with guitars, tambourine and voices all singing
RUN FOR YOUR LIFE
.
Run For Your Life seemed to be a favorite, performed by each band.
My choice for number one mind blowing interpretation ....Nervous Melvin and the Mistakes rendition of
Tomorrow Never Knows
. I was spell bound and my heart was thumping as they put a totally unique sound without loosing the essence of the song.
Next year, I will be better prepared.
Camcorder.