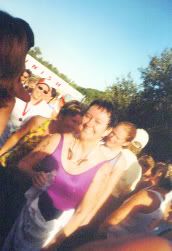 It has been really tough to practice for the upcoming 10 mile run in Louisville. Bad weather and attitude. Heck, I did not practice for any of the races thus far, why should I change now!! Fact is, the six miler (10K) surprisingly almost killed me. I really thought I could just sashay in and do it.
After all, I have done it before. The above picture was taken by my daughter Bridget several years ago (my hair is so short!!!) after the Danskin Triathlon held at Disneyworld. My sister Kit and I decided to do it together and I had plenty of time to prepare.
Did I? Heck no. I did join the YWCA and swam a grand total of one time. I had to sign up for a bicycle the day we arrived. And he only had some klunkers left. I was only too glad to get one!
We started the event when it was still dark. My daughter was scared for me because we began with the swim in the lagoon. I was concerned about alligators myself, but I guess Walt Disney would not allow us to be eaten alive by 'gators during a charity event. They divided us into age groups to begin the race. As soon as I hit the water I was run over by the enthusiastic nuts trying to jockey into a good position. Within a few strokes, I had to flip over and finish the 400 yards on my back. (In my youth I was a very fast backstoker...it is my event!)
I survived that and jumped on the bicycle for the 10 mile trek that seemed to circumvent the park. My sister came whizzing by me (smart aleck) asking if I was okay. Did I look OK?
I could barely stand up when I jumped off the bike. My butt took the worst of it.
The even ended with a two mile run through the Park itself. That would have been so cool if I had not been cross-eyed by then.
Yet, I finished and have a medal to prove it....and this picture. See the finish line?
So, after enduring that and finishing it without one bit of practice, the 10 mile run should be a piece of cake.
In 12 days I am going to attempt to run up the mountainous roads of Iroquois Park and then down the other side. I have accomplished this three times before.
Can I do it fourth time?
I really need to practice.