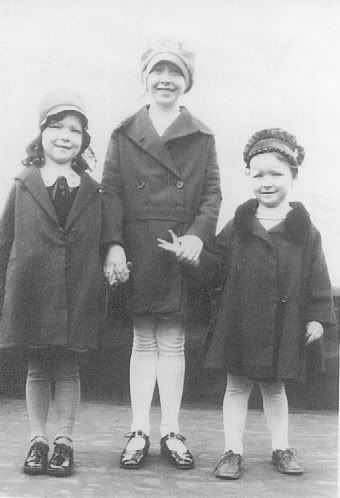 The Greatest Generation
I have a large box of photographs that my mother gave to me several years ago. The box contains the key to the past as long as it is passed on. I can look at the above photograph and know exactly who each little person is though the year must be around 1930. My daughter will know who each of the young children is, but will her children?
My mother is the youngest on the right. It is astonishing how much my sisters youngest resembles my Mom. Uncanny.
My Aunt Pat is on the left. My mom was born a year to the day to Aunt Pat. They shared a birthday. Aunt Pat was a major Tomboy in her day. She was a baseball fanatic and could pop off statistics memorized from the back of baseball cards like nobodies business. She was a beauty and married an Irishman who my Grandmother brought home for her. Funny, but true.
Aunt Maura is in the middle, the eldest. I am named after her and she is my Godmother. Maura is a nickname for Mary. In our family, so is Mollie! Maura left home at 18 and married a German!! I wonder if Grandma ever got over that. As the eldest, Maura was responsible for running the household because Grandma worked days as a nurse.
More about Grandma later.
Maura left home as quickly as possible. She is a fabulous cook, a highly regarded party giver, and most recently had cataract surgery because she was having trouble driving at night and it was interfering with her night life.
Uncle J., her German husband, died in 1982 of a heart attack. He died in her arms. He was tooling around in the garage, and she sensed something was wrong. She found him on the floor.
We all miss Uncle J. to this day. When ever we gather together, we talk about him and how big of a void in the family he left.
She remarried in 1995. They are quite a couple. He is about 95! He came over and ate at her house every night and she decided it would be easier to marry him if she was going to keep on feeding him. "I never expected him to live this long!" she exclaims.
Aunt Pat passed away in 2003. She had a long battle with cancer.
I will miss her till my dying day.