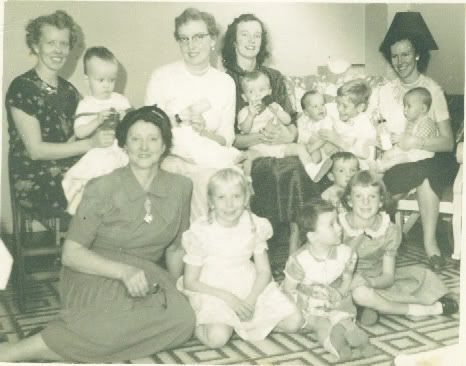 THE WOMEN IN MY FAMILY (continued)
The interesting fact about this photo is that it is the only one I have ever seen of my Grandmother (bottom left) and all her grandchildren. Well, all the grandkids at the time. Missing are only my youngest brother P, my two sisters, and two of my cousins. All yet to be born. I would guess the year is 1956. Can you find me?
Never again were we all together for a photo. Our family moved to Kentucky. We were the only faction of the family to leave New York. Others followed, but much later.
Several times after this frozen moment we could have gathered together as a clan and smile for the camera. It never happened. It was not due to distance, we got together for several weddings before Grandma passed. It was due to my cousin (the cute blonde on the couch tickling one of the babies) marrying an Italian and "killing" my grandmother.
If she refused to go to one wedding, she could not go to any others.
As I look at this photo I am startled as I realize Grandma is smiling! As a child I never remember her smiling. I was scared to death of her.
My mother was the apple of her eye. She was mad at my mother also, for marrying my father. The reason? Because his sister is an albino and she was convinced the gene would transfer to one of us kids.
All the sisters and the one sister in law look so young, so happy. Tragedy, the step-sister to Life, had yet to reach out and touch them. To remind them that there are a lot more tragic things waiting for them than Italians.
Germans were okay. Not Italians.